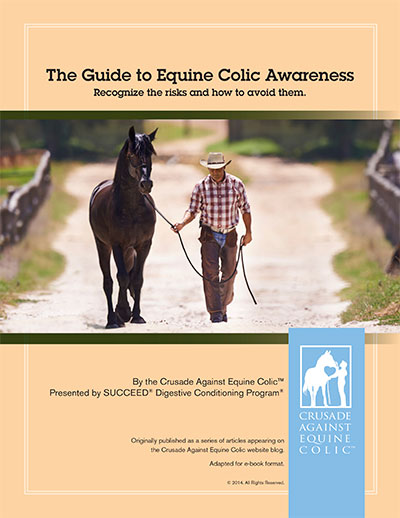 Equine colic is a serious problem with horses. Caretakers who both intimately know their horses and have acquired the proper knowledge can stay steps ahead of colic.
In this four chapter e-book, we provide you with a step-by-step approach for getting to know the risks to your horse and how best to reduce the potential for colic. Learn:
KNOW: What are your horse's risks for colic?
EVALUATE: What early warning signs of colic might your horse be showing?
RECOGNIZE: Are you monitoring your horse's normal, day-to- day patterns and, if so, has your horse displayed inconsistencies lately?
CHANGE: How can you promote a healthy horse lifestyle, resulting in a reduced risk for colic?
Adapted from a 4-part blog series originally published on the Crusade Against Equine Colic blog.
---
Get Your Free Guide
Simply join our email list for free access to "The Guide to Equine Colic Awareness." You will receive occasional enewsletters from The Crusade Against Equine Colic with educational articles, owner-contributed stories, and news.