Today, I am an advocate for digestive health in horses because I know how vital it is to performance and overall happiness, in addition to physical wellness. But it wasn't until the past year or so that I really started to take my horse's gut health seriously.
When My Hard-Keeping Horse Wouldn't Gain Weight
I purchased my young horse off the track, and from the very beginning I had trouble putting and keeping weight on him. Over time I discovered that he was going to struggle with maintaining weight regardless of how much grain and hay I fed him.
My trainer suggested that I try putting him on a daily supplement designed to support digestive health. Initially, I was reluctant. As a college student, money is tight and I didn't see the purpose in spending money on a digestive health supplement for a horse who was just starting to compete at the beginner novice level.
However, after much protest, I gave in and started a digestive health supplement in order to offer my young horse's gut the additional support it clearly needs.
Unexpected Benefits of a Healthier Equine Gut
The results from adding the supplement were incredible. Yes, he gained weight. But there were also so many additional benefits that I hadn't anticipated.
As he began to feel better his attitude improved, both in the barn and under saddle.
The quality of work that I was getting from him was noticeably better and his coat shined in good health.
By the fall my ex-racehorse was holding his own and producing top finishes in USEA-recognized competitions against fancy young warmbloods.
Why My Horse's Digestive Health Matters
A simple way to view the concept of gut health is in relation to human athletes.
For example, let's say you are preparing for a big race or an important game. If you are not properly digesting your food you won't have the energy to perform at your best. If your digestive tract is a bit "funky" you will probably feel a bit grouchy and be unwilling to train as hard.
It is the same for a horse. If your horse is not feeling his best, how can you expect him to perform at his best? You simply cannot.
Thus, as a concerned owner and rider I choose to take my horse's digestive health seriously. I "listen" to my horse and what he is telling me. If his mood or performance changes I take a step back and use it as an opportunity to re-evaluate how I am managing him. Does he need some time in lighter work? Am I asking too much of him too soon?
I am also extremely aware of the care he receives. Is he getting as much turnout as possible? The best quality hay?
By taking digestive health seriously I am helping to ensure that he and I will have many more successful years together – healthy, happy, and colic-free. My partner and friend deserves no less.
---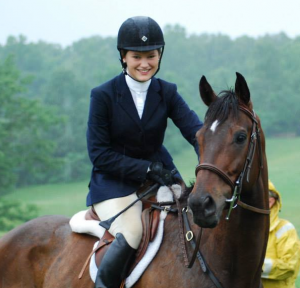 Meet Rebecca Barber
A self-proclaimed "barn rat," Rebecca is a a developing young event rider. Recognized by her peers for her outstanding attention to detail, her work ethic and her perfectionist personality, Rebecca has always led by example. Having competed other horses through training level eventing, she is now focused on bringing her new young horse, an off the track thoroughbred she found at Penn National last winter, up the levels. Rebecca, a senior at the College of William and Mary, is currently taking a semester off from school to be a working student for Holly and Marilyn Payne, where she has been given the opportunity to focus on her goals in the saddle.