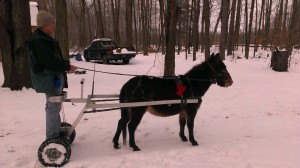 By knowing the signs of Colic and being proactive, Cathy was able to properly respond and care for her dear mule, Clementine.
It was last July in the humid heat of Michigan. We noticed our little mule Clementine laying on the ground before she would repeatedly get up, lie back down and roll around. I knew what that meant.
I called the vet but she couldn't come out because she was on another farm call. In place of the vet, the vet tech came out and tried to tube her with oil to get it to pass. Poor Clementine was in such pain she just wanted to die!
Nothing was helping her so we called the animal hospital in Cassopolis, MI to get her in there. We loaded her up in the trailer all the while hoping that the oil would get things moving but even with the hour ride down, there was no movement. She went through colic surgery because we couldn't just let her die. She had a twist and was impacted but nothing was dead so they got the impaction removed and she got her back on her feet.