The article was written by Rebecca Barber, our 2014 "spokes-horseperson" for Colic Awareness Month. 
How often do you hear of, or read about, the unexpected passing of a horse from a bout of colic? Whether it's a young rider's three-foot jumper or an upper level event horse, such stories tug at our heartstrings. We mourn for those who have lost while we snuggle with our own creatures, hoping that it will never happen to us.
Despite their extraordinary athleticism these magnificent creatures, our best friends, are incredibly delicate. Unfortunately, the pressure that we place on their systems while riding, shipping, and competing can often upset the natural balance of their digestive tract, which could increase their chances of colic.
Popps on the Move
Personally, the last two weeks have been insane for me. Between competing at a horse trials nearly four hours away and then, a few days later, moving eight hours away for a new job, my horse Popps and I have spent a fair bit of time on the road. This crammed schedule was even enough to stress me out, and I am quite used to long days and the constant juggling of responsibilities.
However, despite the insanity I made sure to place an emphasis on maintaining a sense of normalcy in Popps' life. At the end of the day the priority is always to have a happy and healthy horse, regardless of personal or competition goals. This begins by having a healthy horse from the start. Proper management is vital. Whether your goal is to casually compete on the occasional weekend or to campaign at grand prix, your horse's health rests in your hands. Staying up to date on deworming, being aware of your horse's body condition, and familiarizing yourself with what is normal for your horse, are all important components of maintaining your horse's health through regular care.
Keep a Routine While Traveling With Your Horse
Throughout all of the craziness in the last few weeks, my goal was to keep Popps in as normal a routine as possible.
In addition to keeping him on a daily supplement to support his digestive health I also continued, as always, to stress the importance of giving him significant amounts of turnout. Having worked for a handful of farms and experienced various management practices, I am a huge believer that there is nothing better for a horse than proper turnout. When grazing, a horse is eating as he pleases while moving around the pasture. This is how a horse's digestive tract is designed to function.
Offer Hay and Water Regularly When on the Road
When shipping, I make sure that my horse has good quality hay in front of him throughout the drive. For Popps, since he is ulcer-prone, I like alfalfa. The higher calcium concentration acts as a buffer, and works to neutralize his stomach acid.
Additionally, on longer trips I offer Popps water whenever I stop for gas in order to keep him hydrated. Similarly, when preparing to ship, or arriving at my destination, I make a point to wet my horse's feed. This allows me to get some extra liquids into him.
During the summer months I try to ship early in the morning or later in the afternoon to decrease the additional stress that can be caused by traveling in a hot trailer.
Don't Be Afraid to Ask for Advice
It is important to remember that it is OK to ask for advice. I like to surround myself with knowledgeable and experienced horse people and I make a point of trying to learn everything that they have to offer. It is through asking questions that we learn. When it comes to my horse's health I would rather feel dumb for asking a simple question than risk doing, or not doing, something which could affect my horse's health down the road.
---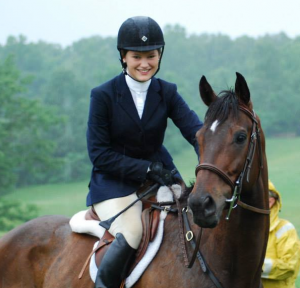 Meet Rebecca Barber
A self-proclaimed "barn rat," Rebecca is a a developing young event rider. Recognized by her peers for her outstanding attention to detail, her work ethic and her perfectionist personality, Rebecca has always led by example. Having competed other horses through training level eventing, she is now focused on bringing her new young horse, an off the track thoroughbred she found at Penn National last winter, up the levels. Rebecca, a senior at the College of William and Mary, is currently taking a semester off from school to be a working student for Holly and Marilyn Payne, where she has been given the opportunity to focus on her goals in the saddle.