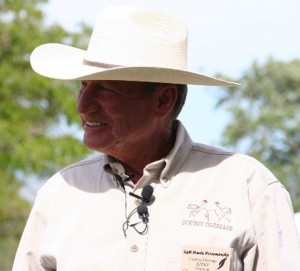 Eitan Beth-Halachmy is best known as the founder of western dressage-style riding — or, "cowboy dressage," performed on the talented Morgans he and his wife raise. Eitan, known to his friends simply as "8", was inducted into the Morgan Horse Hall of Fame in 2010. He is officially retired from showing, but gives frequent clinics at Wolf Creek Ranch in Grass Valley, California. He also travels around the country regularly to exhibit the classic dressage he performs in Western tack and wearing a cowboy hat.
Eitan became famous for cowboy dressage with two-time World Champion Holiday Campadre. Now his best-known horse is Santa Fe Renegade, a glossy dark bay and winner of multiple Western Pleasure World Championships — and until 2011, a frequent sufferer from colic. "Santa Fe" endured surgery in 2006 to remove an enterolith — or build-up of foreign material in the colon. After that, he began struggling regularly with gas colic.
We caught up with Eitan recently to hear more about his experiences with colic. This post is one of several colic-related stories we'll be posting this month to mark Equine Colic Awareness Month.
"In the old days, you just hoped you wouldn't have to deal with colic"
Eitan is a longtime horseman. He grew up studying classical dressage and horsemanship under Adam George, director of the Israeli National Stud and a former Hungarian cavalry officer. He spent a lot of time observing and working at the Spanish Riding School in Vienna while attending the University of Vienna as a student in pre-veterinary medicine. His fascination with the Hollywood cowboy and his dressage background merged when he moved to the U.S. from Vienna to study at the University of Davis, where he decided he wanted to train horses, not be a vet. His pre-vet training came in handy when he had his own barn and horses — but it was never completely free from colic.
"In the old days, you just hoped you wouldn't have to deal with colic," he said. "That really made me paranoid. I used to walk into the barn on my tiptoes to make sure all of the horses were standing, because colic really is one of the worst things that can happen to horses."
Eitan's "cross-your-fingers-and-pray" attitude was sometimes successful, sometimes not. He lost some horses to colic, and he helped others fight through recurring bouts of it. When his beloved Santa Fe started experiencing digestive distress though, Eitan decided it was time to take a different approach and try beating colic before it happened.
Learning from Previous Colics
After Santa Fe had his first surgery to remove the enterolith, Eitan noticed that the championship horse suffered from gas colic "nearly every day," said the horseman. "I used to walk him around and around until he would eventually walk himself out of it, but then he twisted his spleen and ended up having another surgery."
Eitan decided that he needed to get smarter — and more proactive — about his approach. So he made a few changes after a contact at the 2010 World Equestrian Games learned of Santa Fe's challenges and suggested a different approach to feeding.
Feeding for a Healthy Digestive System
Previously, Eitan and Debbie fed hard feed twice a day and provided hay at the same time. Most of the horses were in active competition, so travel and frequent stall time were also part of the equation.  Following the advice received at the World Equestrian Games, Eitan made a few changes.
First of all, he began turning his horses out in the pasture whenever possible in an effort to reduce the emotional challenges faced by show horses. Then he began to rethink his policy of feeding twice a day.
"I used to just throw a flake or two of hay over the stall door when we fed, and now I make a meal of it. I've become a horse cook!" Eitan exclaimed.
Now, the horses at Wolf Creek are fed four small meals per day, and fed a near-constant supply of roughage. The Beth-Halachmys feed grass hay, shredded and soaked in water, and combine the four-times-daily grain with hay and shredded beet pulp to help the horses eat more slowly.
"We've completely changed how we do things," he said. "It's not enough to just hope you don't get colic; you have to get wiser and actually do something about it. Now that I'm a horse cook I have a much happier horse, I sleep better at night, and — touch wood — I'm not as worried as I used to be. That's why it's so important to spread the word about the things we can do to help avoid colic."
The Crusade Against Equine Colic is all about sharing and having a conversation. Thanks to Eitan Beth-Halachmy for sharing his personal colic experience. You can share your own colic stories during the month of June for Colic Awareness Month and be entered to win SUCCEED.
This article was originally posted on the SUCCEED blog. Read more and subscribe.