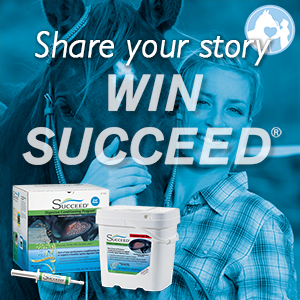 Equine Colic Awareness Month is all about community and education. It's in the stories that we build a community. And it's in this community that we can educate each other to prevent colic in barns everywhere. Your story could strike the right chord with a fellow equestrian who has a horse that behaves just like yours did just before he colicked.
As we always say, everybody has a colic story. Maybe your own horse has colicked late in the night. Perhaps your friend's horse endured a week-long battle. No matter the situation, we've all heard the stories, and we know how those stories often go. Still, no matter how common colic may be, or how familiar the stories often sound, we should share our experiences. Sharing our stories is not only therapeutic, it's also relatable and can be life-changing for those who hear them.
By submitting your story during Equine Colic Awareness Month in June, you will be entered to win a free "SUCCEED Challenge" registration, including a 60-day supply of SUCCEED Digestive Conditioning Program.
Also, each person who submits a colic story during June will receive a free "My Horse is a Colic-Free Zone" bumper sticker for your horse trailer or truck, to help start conversations and to show your support.

Submit Your Story
Submit your story anytime during June, whether your horse survived or passed away. When you do, you will automatically be entered to win the free SUCCEED Challenge. It doesn't matter if your horse endured a minor gas colic scare or major surgery – any colic story counts.
Questions to Consider When Submitting Your Story:

How did you know your horse was colicking?
What did you do?
What did your vet do?
What have you done to prevent colic since?
*Submissions may be edited for grammar and readability.
Entries must be type-written, and must be between 50 and 500 words in length. The winner will be chosen randomly from all qualifying stories submitted. (For official rules, download the PDF.)
Spread the Word
Equine Colic Awareness Month is all about promoting education and prevention of colic. Do your part by sharing your story, spreading the word, and educating yourself on ways to stop colic in your barn today.
Surviving Colic Doesn't Stop Colic. Make a Change Today.