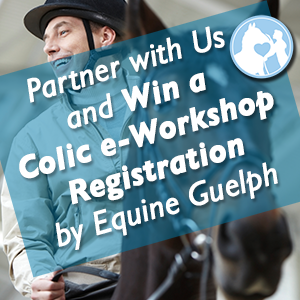 Are you an avid blogger or social media maven? Do you manage your own website? Are you an equestrian, a horse lover, and a horse owner? Do you believe in stopping equine colic? If so, the Crusade Against Equine Colic needs you during Equine Colic Awareness Month.
Becoming An Equine Colic Awareness Month Partner
Since the Crusade is all about education and community, we are calling all equestrians to partner with us during the month of June to help spread the word and put a stop to colic in barns everywhere.
Becoming a partner is easy. All you have to do is help further our cause on your own website, blog or social media channels. Here are a few ideas:
Promote Equine Colic Awareness Month
Share content from the Crusade website
Write your own unique content with colic tips, research, or stories
Encourage people to share their personal colic stories
By promoting Colic Awareness Month, we'll promote you too.
Win a Free Colic Prevention eWorkshop Registration from Equine Guelph
All participants who partner with us during the month of June will be entered to win a free Equine Guelph Colic Prevention eWorkshop Registration.
Equine Guelph has declared 2013 the Year of Colic Prevention and offers an online short course to help horse owners learn more about colic and how to take the right steps in preventing it through proper barn management skills. Normally a $75 value, the Crusade is looking for an MVC ("Most Valuable Crusader") – someone who promotes Equine Colic Awareness Month diligently – to enroll in this eWorkshop for free.
Use our Partner web form to share your web activities in support of the Colic Awareness Month effort, and to be entered to win the free Equine Guelph Colic Prevention eWorkshop. A winner will be chosen randomly from all eligible entries. For promotion rules and conditions, download the PDF.
Free Bumper Sticker
All partners will receive a "My Horse is a Colic-Free Zone" bumper sticker just for signing up.
Visit the Become a Partner page to get started on becoming an advocate for community and education, and to put a stop to equine colic everywhere.