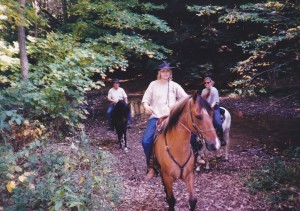 I have never had a colic problem with El Camino, my 19 year old Paso Fino. I always make sure he has good quality hay, feed and plenty of fresh water to drink.
My horses are out during the day and they have their own stall at night, that way I can check them twice daily for early signs of discomfort.
My now retired horse Macanudo had a fatty growth on his stomach wall, which I caught in time for him to have a successful surgery. After his recovery, I both trail rode and showed him. He will be 23 in May.
The Crusade Against Equine Colic thanks Ida for sharing her personal experience with preventing colic in her barn. Ida is a candidate for the Equine Colic Awareness Month Spokes-Horse Contest. Enter your Colic Story for a chance to win.