Everybody has a colic story. Whether it's a story about your own horse, a story about a friend's horse, or a story about another horse in your barn, just about every horse person understands what it's like to endure a colic episode.
If you've personally experienced colic, you know how scary it is. That late night phone call to the vet, the decision to go through with surgery, the constant "I'm never going to let this happen again" playing over and over again in your mind.
Colic is the number one medical killer of horse, but the truth is, the vast majority of colic episodes could have been avoided through proper care, management, and attention. To help put an end to this statistic, the Crusade Against Equine Colic is enlisting horse owners, trainers and riders all over the country to tell their personal stories of horses who have endured and overcome colic. 
Submit Your Story
By submitting a personal colic story of a horse who has survived colic, your horse will be entered into a contest to become the "spokes-horse" or "face" of Equine Colic Awareness Month in June. For the entire month of April, you will have the chance to submit a story. It doesn't matter if your horse endured a minor gas colic scare or major surgery, any colic story about a horse who has survived colic counts.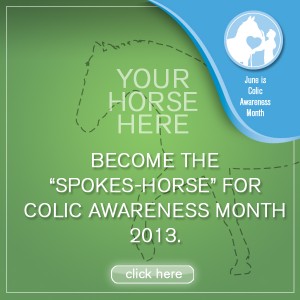 Questions to Consider When Submitting Your Story:
How did you know your horse was colicking?
What did you do?
What did your vet do?
What have you done to prevent colic since?
*Submissions may be edited for grammar and readability.
Enter the Colic Awareness Month Spokes-Horse Contest now!
Vote on Your Favorite
For two weeks in May (1-15) the equine community will vote on their favorite story on Facebook.
Once voting closes, a winner will be selected to be featured as the spokes-horse of Equine Colic Awareness Month. You and your horse will appear on all promotional images for Awareness Month including web banners, social media and print materials. You and your horse will also be featured on the blog through a full-length article.
The official spokes-horse of Equine Colic Awareness Month will also receive a free SUCCEED Challenge Registration donated by Freedom Health, LLC – a 60-day supply of SUCCEED Digestive Conditioning Program with a 10-pack starter kit, free shipping, and online diary.
Spread the Word
Each person who submits a colic story during the month of April will receive a free Crusade Against Equine Colic bumper sticker for your horse trailer or truck to help start conversation and show your support. These will be sent through the mail.
Equine Colic Awareness Month is all about promoting education and prevention of colic. Do your part by spreading the word about this contest, submitting your own personal colic story, and educating yourself on ways to stop colic in your barn today. Surviving Colic Doesn't Stop Colic. Make a Change Today.
View official contest rules or enter the Spokes-Horse contest.