Author: Vicki Winwood
Pea seems to colic on a frequent basis and it causes me a lot of grief! Just last week she had compaction colic because of the cold weather we've been having. Since she was cold, she wasn't drinking enough water. When you combine that with dry grass and limited feed value and a chaff mix that I was feeding her to supplement her diet, you've got a recipe for compaction.
She wasn't rolling around like I have seen her do with sand colic, but she was static and acting like she wanted to get down. She just wasn't herself, lost her appetite, and was visibly uncomfortable… Now I know the signs!
I had the vet treat her and walked her frequently, which triggered bowel motions. I put her into a paddock with a better pasture and gave her a damp digestive meal. I also gave her tepid water since the water in the trough was cold.
Colic really comes down to wha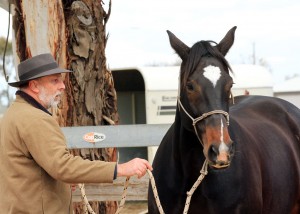 t you feed. You really do need a good pasture and quality hay. We have a fine, sandy loam soil here, which makes our horses more prone to sand colic. One episode resulted in an overnight stay at a vet surgery and cost $2,500 in vet fees. It could have been worse, but no major surgery was needed.
Now I make sure Pea has good clean feed, and hay in a hay net. We've also put a big rubber mat underneath so when she cleans the hay up she's not eating the sand.
We love our Irish Sport Horse, which is why we've  gone to great lengths to making sure she doesn't colic. It's interesting because she runs with three other horses and neither of them have had an issue. I guess every horse is different.